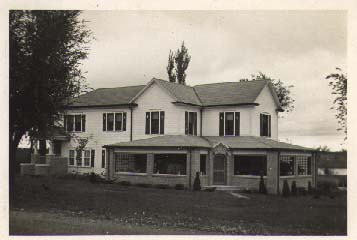 The Cowan Hospital & Home
This photo was donated to me by a gentleman who bought it along with many other photos at the Cowan estate auction in the late 1990's. It is my understanding that the home sold but it is unoccupied and overgrown.
The photo is of the Cowan hospital where many Dade Countians were deliverd by Dr. Watt O. Cowan. The Dade County Genealogy Society is working on Dr. Cowan's biography. Dr. Cowan was a well-known physician in Dade County.
I actually had all of my "physicals" for high school sports in his second story office over what was the Rubenstein store. The "physical" consisted of Dr. Cowan asking you a series of questions including, "Do you feel okay?" Then he would fill out and sign the form. It was acutally a chat and not an exam!!
Note: I passed all four years as did all of the athletes that visited his office.